GMID - In Person and Safe!
#MeetSafe in Minneapolis!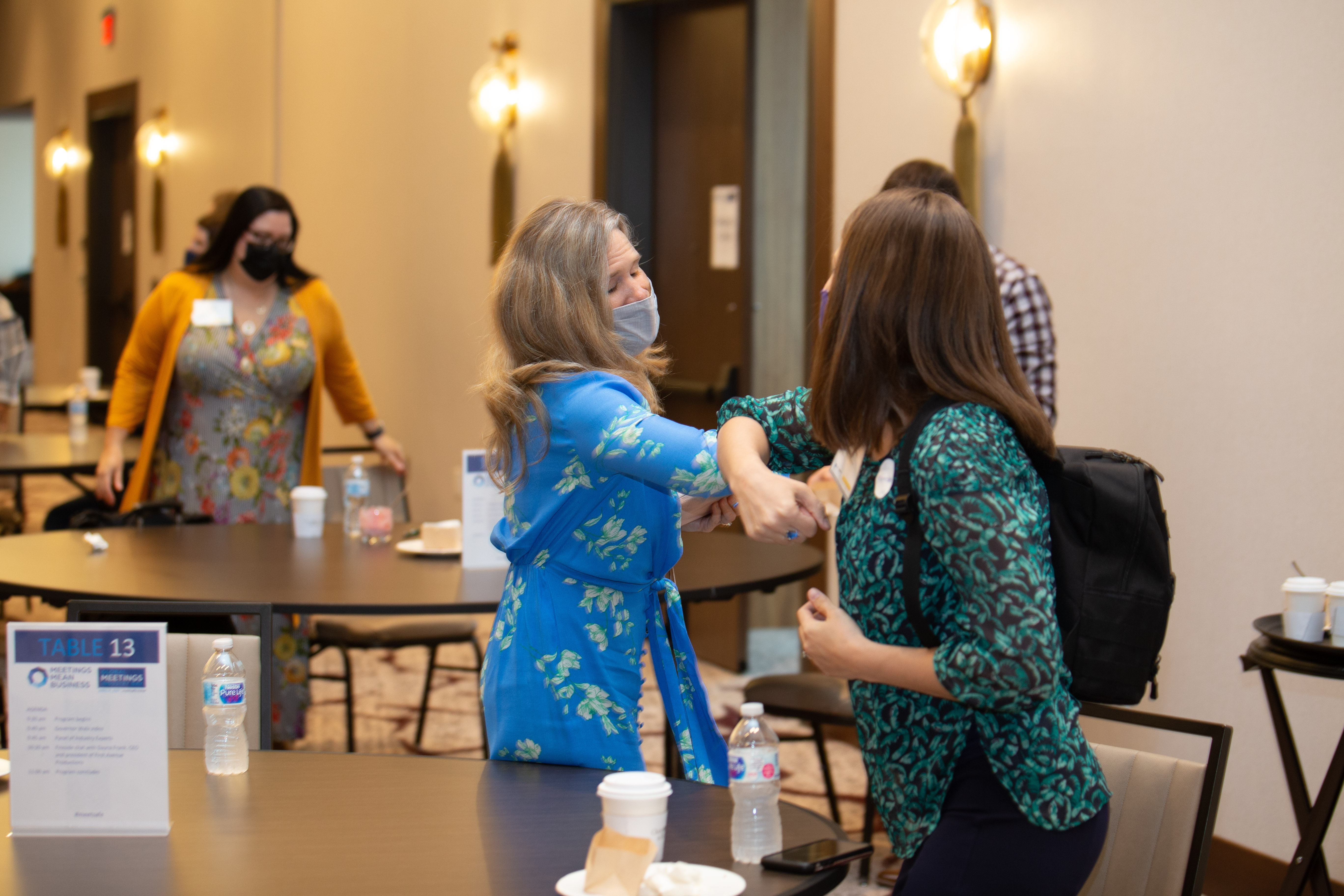 On a cool and sunny morning, just over 100 meeting planners gathered in Eagan, Minnesota at the Meeting Professionals International (MPI) Minnesota Chapter's "Global Meetings Industry Day" (GMID) to discuss their industry and what "meeting safe" looks like going forward.
In addition to an industry panel discussion, the event included featured speaker Dayna Frank of First Avenue Productions* as part of a global "Meetings Mean Business" program.
This was the first meeting since the start of COVID-19 for the MPI Minnesota Chapter. GMID included "hybrid" component with an audio-visual company that livestreamed the meeting to registrants who were able to watch from their home or office (or home office!)
The Omni Viking Lakes Hotel was the venue for people attending in person, a lovely new facility next door to the Minnesota Vikings training center.
Participants entered a health-screening area and had their temperature checked at one of two stations and then proceeded to tables where they signed a health attestation form.
From there, registrants picked up their name badge and were welcomed to peruse the well-spaced sponsor tables and be served some breakfast items by hotel staff as another safety measure.
Floor stickers and other signage reminded participants to "stay apart for safety" by wearing their masks (donated by Promotion Select) and maintain a six-foot physical distance. Attendees had assigned tables in the meeting room.
Unlike events prior to COVID, registrants could not serve themselves to breakfast and the traditional lanyard were not provided. Signs were also placed in the vicinity to remind folks that food and beverages were "to be enjoyed seated ONLY."
How did the chapter meet the federal, state, and city guidelines while also setting an example for their industry?  They gathered a small group of members representing both suppliers and planners and created a #meetsafe "Preparedness & Precautions" document that outlined their plans and what attendees could expect. This was shared as a PowerPoint with registrants and posted to the event website in advance.
Particular precautions included:
A capacity limit set by the chapter (to not exceed 250 guests) based on the space and all guidelines and requirements;
Registrants received a "know before you go" email that reminded them to stay home if they felt unwell and had a flexible refund/credit policy;
Signage and lots of it;
Stickers on the floor (stay safe at six feet apart);
Lapel stickers for persons who passed the temperature check and health station;
Contactless registration desk (plexiglass divider, attendees picked up their own name tag);
Key entry and exit points clearly marked, with traffic patterns and directions noted;
Food and beverages were served by hotel staff with appropriate PPE and individually wrapped/enclosed portions were offered;
Assigned seating;
Seating restricted to no more than 4 persons per 72" round table;
Volunteers bringing the microphone to the audience members; and, of course,
Sanitizer wipes and dispensers all over the place!
Flickr Photo Gallery
* You know, the "First Ave" (First Avenue & 7th St entry), live music venue and home of Prince and many others!
Share this post: